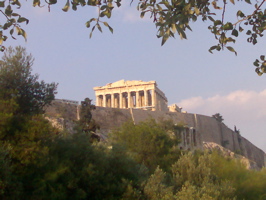 When in Athens
So I was the fortunate winner of an office draw for a free trip to Athens, to see of all things the Champions League soccer finals! And I'm such a huge soccer fan 😉 . It was a fun trip though, but seriously brief (only 2 days!). With one day practically dedicated to soccer there wasn't much time to do other things. But I got a chance to visit that most famous of famousesses: Acropolis and the Parthenon.
It was raining when we arrived, and the Acropolis tour seemed in doubt. But Zeus smiled on us and the downpour ended
promptly as we got off the bus. Guided by an expatriate Swede full of witty anecdotes we ascended the hill. Restorations are ongoing and the whole Acropolis has the feel of a building site, but it's still impressive. The restorations are done with marble from the original quarry, but the new pieces look quite different in color. Fear not says our
guide, a few years of Athens smog and they will be indistinguishable from the rest.
The view from the hill of the city is spectacular, a mixture of ancient ruins and dense urban growth stretches out in all directions. Our guide tells us that Athens has seen a lot of changes as a result of the massive efforts surrounding the 2004 Olympics:
improvements in infrastructure and an overall clean-up of downtown areas has modernized the city, leaving some of its grimy charm behind. My limited impression is that it still feels different than the other European cities I have been to, a bit chaotic (traffic is pretty insane), more exotic perhaps.
Soccah!
Must not forget some words about the real purpose of my trip: to watch a soccer game! The teams competing for the cup this year were Liverpool and Milan, and both teams played well but Milan dominated much of the second half and the game ended in their favor without the need for extra time or shootouts.
Thousands of hardcore fans were conveniently seated on each end of the stadium, we had seats in the middle, and the sheer volume of the crowds was amazing. We had the obligatory streaker that ran out on the field during the game, having a blast for about 30 seconds before he was pummeled by security and booted from the stadium.
Nifty Tech:
Practically every rooftop in Athens had one or more of these solar water heaters. Two panels, a tank of water, and lots of sunny weather probably saves Athenians a bundle on heating their hot water.